Where to pick your own berries this month
---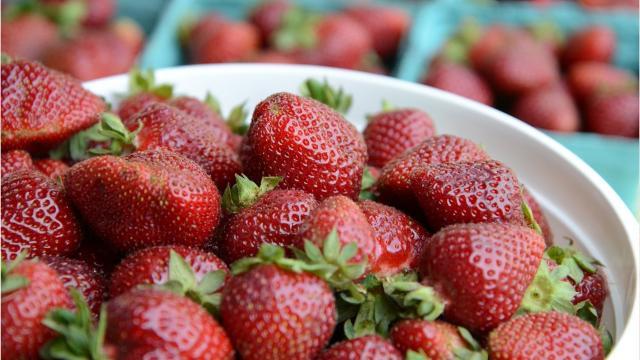 Testing a strawberry hack
We tested a hack for hulling strawberries, and it worked.
Wochit
Blueberries, strawberries, blackberries — oh my. They will all be ripe for picking over the next few months. Whether you enjoy picking them off the vines or picking them from the produce stand, we've got some suggestions.
There are several farms throughout the Upstate that offer pick-your-own services, so no matter which city you're located in, you're bound to find one close to you.
• Berry Acres in Anderson offers pick-your-own strawberries, blueberries, blackberries, raspberries, peaches and muscadines/scuppernongs. If the berry-picking is slow, they offer fun activities for the kids, too. Check them out on Facebook for more information. www.facebook.com/pg/berryacresllc/about.
Berry Acres is located at 230 Strawberry Road, Anderson.
• Beechwood Farms in Marietta is open from mid-April to September. During strawberry season you can pick your own berries or visit the produce stand for pre-picked berries and other fresh fruits and vegetables. For more information, visit www.mybeechwoodfarms.com.
Beechwood Farms is located at 204 Bates Bridge Road, Marietta.
• Another great u-pick is Sandy Flat Berry Patch in Taylors. If you head to pick berries at Sandy Flat, you could take a picnic lunch and stop at Century Park in Greer for lunch and playing in the park. Sandy Flat also offers other produce and is located at 4715 Locust Hill Road, Taylors. For more info www.facebook.com/SandyFlatBerryPatch.
If combining these trips with a pizza lunch and ice cream treat sound like a plan, you're in luck. If you are headed toward the Taylors/Greer area, try Della Ventura's for pizza or Dillard's for ice cream.
If you head to TR/Marietta, you will pass Sidewall Pizza and Pink Mama's Ice Cream in Travelers Rest.
• Other pick-your-own farms to consider include Hunter Farmsin Easley (strawberries), Fishers Orchard in Taylors (peaches), and Stewart Farms in Laurens (strawberries).
Pick it up from a produce stand instead
To make a day of it, you can travel to Chesnee and visit Strawberry Hill USA. Located on Cooley Farm, you'll find The Shed at Cooley Farm and the Strawberry Hill USA Café and Ice Cream Parlor, where visitors can get a taste of farm life and sample different fruits before you buy them. You can't pick the strawberries yourself at Strawberry Hill USA, but you can watch them being harvested and visit their huge produce market consisting of seasonal vegetables as well as berries and peaches when in season.
Bethani McLellan of Strawberry Hill USA said their peak season this year for strawberries includes May, but temperatures in mid-June will get too hot for these berries to continue producing, so don't wait too long to make your trip.
If you time it right, you can stop at the Strawberry Hill USA Café and Ice Cream Parlor before heading over to get your strawberries. The café serves breakfast and lunch; just make sure to eat first so you don't have to leave your strawberries in the hot car. The café is open from 6:30 am — 2:30 p.m. Mondays — Saturdays and serves everything you'd expect, from cathead biscuits at breakfast to hotdogs and quesadillas at lunch. If you eat before you head to Strawberry Hill USA, make sure to save room for some of their homemade ice cream. Strawberry cheesecake is always a hit this time of year.
Check their website for more info and the café menu: www.strawberryhillusa.com.
Strawberry Hill is located at 3097 Highway 11, West Chesnee.
Daytrip Tip: Picking strawberries is a great activity for the family. Just remember to call before heading to the pick-your-own farms to make sure they are open for picking. Rain showers can often change a schedule at a berry farm, like the day we went to shoot a photo at Beechwood Farms. They had beautiful strawberries for sale, but due to rain, the pick-your-own portion of the farm was closed.